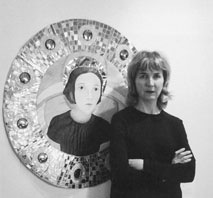 Cynthia Nixon, the daughter and granddaughter of American Baptist ministers in upstate New York, was born in Rochester. She received a B.A. from Dickinson College, and an M.Ed. from the Pennsylvania State University School of Visual Arts, where she was taught by Linda Plotkin and Stuart Frost, a student of Ben Shahn.
For most of her life, she has lived and worked in the quiet beauty of central Pennsylvania, where her studio is surrounded by farmland and mountains. Since childhood, she has spent summers with her family on the coast and islands of Maine. These places inspire the landscape and imagery in her figurative paintings, where the natural and unseen worlds come together.
An abiding interest has been the symbolic associations in realist paintings through centuries of Western art from the Flemish/Netherlandish Northern Renaissance through the American realist tradition, leading to a master class at the Pennsylvania Academy of Fine Arts in Philadelphia with the American painter Bo Bartlett, a protégé of Andrew Wyeth.
In her uniquely hybrid work, she has consistently created luminous surfaces with detailed painting, augmented with gold leaf and metallics. Her themes range from the intensely personal to the universal. Crash was created after her back was fractured in a traumatic automobile accident. Lost Souls evolved as a memorial to the September 11th World Trade Center destruction. Transcendence was commissioned as the backdrop for Archbishop Desmond Tutu's invocation en route to acceptance of the Nobel Peace Prize.
Cynthia Nixon is represented in the permanent collections of the Smithsonian American Art Museum, Washington, DC and the Museum of Arts & Design, New York. Her work has been exhibited widely and is included in over one hundred public and private collections in the United States, Europe and Japan.